RNCM Conducting Course for Music Educators: Workshop 2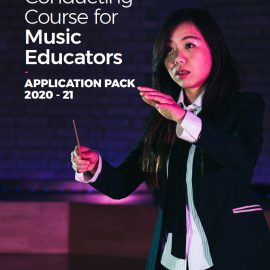 The RNCM is at the forefront of conducting training internationally. Current students and recent graduates of our Junior Fellowship and Masters programmes hold, or have recently completed, assistant conductor positions with the Berliner Philharmoniker, City of Birmingham Symphony Orchestra, English National Opera, Hallé, London Symphony Orchestra, New York Philharmonic, and Minnesota Orchestra. We are delighted to be able to extend the world-class teaching that lies at the heart of these successes to those doing vital work in music education. The emphasis is firmly on practical work and reflects the core belief that underpins all of the College's world-class conducting programmes: conductors learn best by conducting other musicians.
Held at the RNCM in Manchester, from 10am to 5pm, this workshop will focus on developing knowledge of specific instrumental families. Participants will work with string and wind/brass ensembles of RNCM students exploring conducting and rehearsal techniques relevant to each.
E-LEARNING All conducting sessions will be filmed and distributed online to the participants. In between the workshops, participants will be asked to film their own rehearsals and submit them online. Feedback will then be provided in the form of a voice-over, and returned to the participant for review enabling consolidation of the work done during the workshops. On successful completion of the course, participants will be given an RNCM Certificate of Participation detailing the work undertaken during the course.
Part of a workshop series, attendees will be expected to attend the full workshop series.  Find out more about Workshop 1 and Workshop 3.
Attend
Find out more about Workshop 2, download the application pack for all 3 workshops below.
This event has passed
Browse all upcoming events or sign up to receive our monthly email update featuring our latest news and events.