RNCM Conducting Course for Music Educators: Workshop 1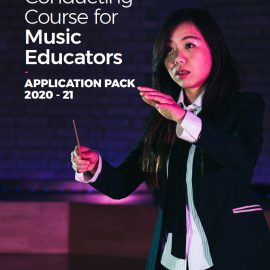 Taking place at Whitemoor Lakes Conference Centre, near Lichfield in Staffordshire, from 2pm on 25 October to 4pm on 26 October. Running in conjunction with Derbyshire City & County Youth Wind Band's residential course, there will be introductory technical sessions and discussions on rehearsal strategies and score study. Participants will work with smaller ensembles and the full band. The Derbyshire CCYWB is one of the finest ensembles of its type in the country, and gained a Platinum award in the national finals of the recent National Concert Band Festival. Due to uncertainty surrounding the COVID-19 situation at the time of going to press, this first workshop may take place online. It may also be possible for some participants to attend physically and some online.
E-LEARNING All conducting sessions will be filmed and distributed online to the participants. In between the workshops, participants will be asked to film their own rehearsals and submit them online. Feedback will then be provided in the form of a voice-over, and returned to the participant for review enabling consolidation of the work done during the workshops. On successful completion of the course, participants will be given an RNCM Certificate of Participation detailing the work undertaken during the course
Part of a workshop series, attendees will be expected to attend the full workshop series. Find out more about Workshop 2 and Workshop 3.
Attend
Find out more about Workshop 1, download the application pack for all 3 workshops below.
This event has passed
Browse all upcoming events or sign up to receive our monthly email update featuring our latest news and events.