Rhythms & Revolution – Grand Union Youth Orchestra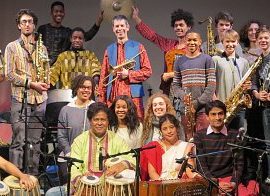 RHYTHMS & REVOLUTION – TENTH ANNIVERSARY CONCERT
At the Grand Union Summer School and throughout the autumn, GUYO musicians have been working on a programme to commemorate the centenary of the Russian Revolution. Drums and drumming have always been associated with insurgency, and throughout history rhythm has often been the driver of change – whether musical, cultural, social or political. It can be subtly subversive too…
Through workshops with distinguished African, South Asian and Latin-American percussionists and drummers, GUYO members have been exploring how
Africans communicated secretly under the very noses of colonial rulers;
throughout South America, the Caribbean and Cuba slaves kept their old traditions, customs and religions alive through music from their native Africa;
candomblé and maracatú still thrive in northeast Brazil today;
varieties of bhangra and classical Indian music flourished in the West Indies;
and how in the USA all this also eventually gave birth to jazz, the most revolutionary music of all, with its emphasis on improvisation.
The Grand Union Youth Orchestra, London's pioneering world music and jazz ensemble for young musicians, is unique and celebrates its tenth anniversary this year. How better than with a riot of rhythms, from bhangra, West African drumming and Yoruba chant, through calypso, ska and reggae to salsa, samba and the infectious dance rhythms of South America!
Admission £8/£4 concessions For more information about the show and to book, go to  www.richmix.org.uk
This event has passed
Browse all upcoming events or sign up to receive our monthly email update featuring our latest news and events.