Regenerate Sessions – Digital: The new performing space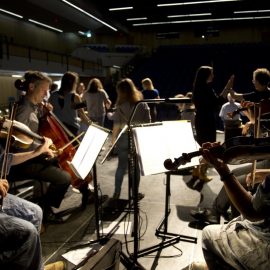 Orchestras Live's first conversation, 'Digital: the new performing space', will take place on Wednesday 3 June at 11am. The panel includes Jess Gillam, saxophonist and founder of the Virtual Scratch Orchestra, John Nolan, Director of Learning & Participation, Melbourne Symphony Orchestra and Paul Carey Jones, bass-baritone and blogger.
The covid-19 crisis has forced many orchestras and musicians to rapidly place performance content online to fulfil artistic, performance and audience development needs. There's been huge demand for content from audiences who now have an overwhelming amount of choice of free performing arts content to consume on a weekly basis.
Can we afford to keep giving our content away for free? Does the sector have the digital skills and workforce to create this content long-term? Are we finding new audiences online or are we talking to an echo chamber? Orchestras Live will discuss the wider implications of the rush to digitalise performance, as well as the approaches panellists have taken to their own online content creation.
This event has passed
Browse all upcoming events or sign up to receive our monthly email update featuring our latest news and events.