Piano and Vocals for Worship Music Workshop

When I first started piano teaching, I was approached by churches who either wanted me to lead worship as a pianist or to train their members to be able to play the piano for their church worship. Now, I feel like I am in a perfect position to meet those requests through Community Workshops. Ideally, we hope to run the workshop in 2020 and 2021 for five consecutive days each year during the summer holidays.
Molly is leading the singing part of the workshop. She is experienced in teaching singing, wind instruments and is Head of the Music Department in a Primary School. She organises choirs, orchestra and various events. She is a member of the worship team and has led worship at her church. In addition she leads worship as part of Women Arise Ministries Global.
I have been teaching piano at Singlegate Primary School for years now and recently graduated with an MA in Music.
I have always had a heart for the community and the church especially, since the church and church worship music has been a part of my life for as long as I can remember. At the moment I sing second soprano at St. Mark's Church, Bromley. But I have had roles as a pianist and worship leader at other churches of various denominations.
Therefore, since I started being part of church worship from a young age, the target audience for this workshop is teenagers up to senior citizens. If you feel that there is someone younger who has a vision and talent then please encourage them to come along.
As well as having an opportunity to play the piano and sing, there will be Q & As as well as group discussions and a speaker talking about: "The heart of worship"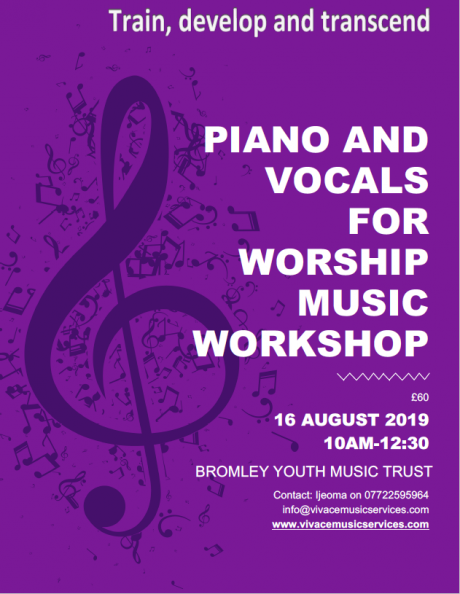 Attend this event
Tickets: £60
Contact Ijeoma on: 07722595964
This event has passed
Browse all upcoming events or sign up to receive our monthly email update featuring our latest news and events.