Our Music City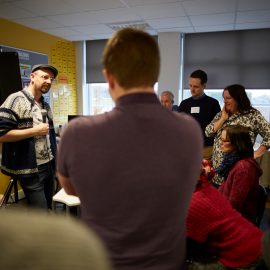 Our Future City invites you to the first of a series of monthly #BeCollective networking events, which will focus on aspects of the arts, culture and creativity for children and young people in Brighton & Hove.
Our Music City will feature:
Mark Davyd, CEO of Music Venues Trust, CEO of Rhythmix, band manager and winner of the CC Skills Music Skills Award 2017. Mark will talk about what we can learn from Music Canada about joining up music industry and music education.
Chelsea Rixson, Live and Music Creation Officer at Brighton Music Office. Before making a move into the Music Industry, Chelsea was a Project Manager for a Global Collaboration Services organisation in London. Starting with running live music events in Brighton and management of bands, Chelsea now runs the Brighton Music Office. The Brighton Music Office has conducted key research into how the music industry works in Brighton and aims to provide information and resources to support and grow Brighton's music scene. Chelsea will share Brighton Music Office's findings from mapping Brighton as a music city, including recommendations around progression routes into the music industry for young musicians, commissioned by SoundCity, the music education hub for Brighton & Hove.
Five minute spotlight from Adam Joolia, Director of AudioActive. AudioActive's mission is to develop and provide access to a range of inspirational experiences and interventions that support young people to reach their full potential. Adam will join us to talk about the exciting work going on with young people in the city through AudioActive's projects.
This will be followed by a facilitated discussion and a chance for you to share your ideas and insight with the OFC team.
These monthly events are designed to be informative and entertaining social events for anyone interested in arts, culture and creativity and how they can improve the lives of children & young people. The events will share national and international best practice, showcase local case studies and provide a space for you to connect to other people and input into Our Future City.
Future dates and themes:
8 June – Our Happy City: How the arts are helping with children and young people's wellbeing
6 July – Our Learning City 1: How can arts and creativity fit in schools complex agendas, targets and plans
To find out more about Our Future City visit their website here: http://www.ourfuturecity.org.uk/
To propose themes for future #BeCollective events please email ourfuturecity@brightondome.org.
Attend this event
VENUE: The Basement, Kensington St, Brighton, BN1 4AJ
To book your FREE place please visit Our Future City's Eventbrite page below.
This event has passed
Browse all upcoming events or sign up to receive our monthly email update featuring our latest news and events.