Open Orchestras Q&A Webinar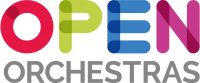 This session is for special schools and music education hubs interested in taking their ensemble music making to the next level: supporting young disabled people to learn an instrument and play together live. It will give you all the information you need to start planning your own Open Orchestra.
Education Manager Jonathan Westrup will run a short presentation taking you through the steps needed to get ready to apply for Open Orchestras.
We'll have an open Q&A session so you can find out more about the Open Orchestras programme and get clear advice.
We'll share some video examples of our current Open Orchestras playing, to remind you of the amazing music your students could soon be making in their own orchestra!
We'll share useful planning documents to help you prepare for your orchestra.
After this session, you can continue planning and get ready to apply by the deadline of 2nd May 2022.
We look forward to seeing you at this session!
This event has passed
Browse all upcoming events or sign up to receive our monthly email update featuring our latest news and events.