NYMAZ SEND Music Network Gathering 2021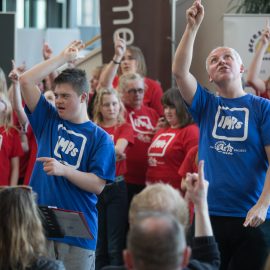 A 5-day online event exploring ideas, best practice and inspiration regarding music-making with children and young people with SEND.
Our fantastic line up includes DaDaFest discussing inclusive ensembles, Sound Connections  exploring youth voice in SEND contexts, practical workshops on singing with Ashleigh Lowes and Beccy Owen and using percussion with Jo May and Sarah Fisher, plus Purple Patch Arts exploring how to use music to teach life skills.
The event is open to all who are working with (or interested in learning more about working with) children and young people with Special Educational Needs and/or Disabilities. You might be a music practitioner, workshop leader, classroom teacher, part of an arts organisation, a student or a freelance practitioner.
Everyone is welcome!
This event has passed
Browse all upcoming events or sign up to receive our monthly email update featuring our latest news and events.