NYJC's Vocal Project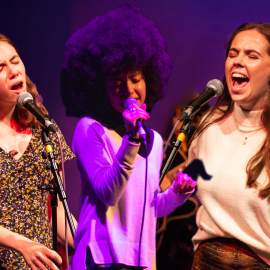 For singers aged 14-18 (19 if taking a year out) who want to get right inside the music!
"This project offers a unique opportunity for young jazz vocalists, who don't get the same level of ensemble opportunity as their instrumental peers in regional big bands" – NYJC's Executive Artistic Director, Issie Barratt
"There's something essential about this music!" – Vocal Project Musical Director, Pete Churchill
Applications deadline: Sunday 12 June 2022
Confirmation offer letters sent: Wednesday 15 June 2022
Residential Course's Timetable: 
Friday 12 August 2022: Arrival 1pm. Sessions: 2-5pm & 7-9pm
Saturday 13 August 2022:  Sessions: 10am-1pm 2-5pm & 7-9pm
Sunday 14 August 2022:  Sessions: 10am-1pm & 2-4pm then 4pm performance @ Benenden's new 750 seater theatre
Through singing in an ensemble we will address some essential skills needed for solo singing:
Phrasing, paraphrasing, intonation, articulation and groove.
Other skills covered will be:
Learning by ear
Developing a good memory for music and lyrics.
Developing an understanding of form
Rhythmic security in an improvising environment.
Improvisation and understanding of jazz harmony and modes.