North West Conference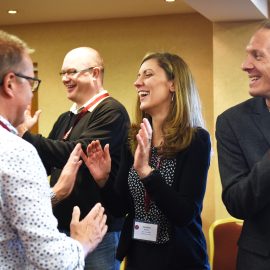 Music practitioners are invited to the North West Conference on 2 September at Chetham's School of Music in Manchester. This is the first time the conference has happened in person since 2019 and will be a fantastic opportunity to catch up with colleagues and reflect on and develop your professional practice.
In response to Music Mark's ongoing Talk into Action campaign, the theme for the conference is Equity, Diversity, and Inclusion. We are welcoming musician-technologist Kris Halpin and composer, beat boxer and violinist Faz Shah to deliver the keynotes.
There will be an array of sessions for delegates to attend throughout the day, covering topics such as the refreshed National Plan for Music Education (delivered by two of the Plan's advisory committee) and how A Common Approach could help your work.  As well as a number of practical and specialist discipline-specific sessions, there will also be an exhibition to explore led by Industry Partners working across the music education sector.
This is a day of learning and sharing designed to inspire you ahead of the new academic year. We look forward to seeing you there!
To see the timetable for the day and find out more about the different sessions and presenters, download our programme. 
Attend this event
Pricing:
Full Price Ticket: £95
Discount for Music Mark Members: £55
North West Special Offer: If you are teacher/tutor from a lead music education organisation in the North West and your Hub or Music Service is paying a discounted rate for you to attend, please do not book your ticket here! Instead, your employer will send you a dedicated form to complete. (If you are paying for yourself, please book your ticket below).