New training sessions for Primary Music Practitioners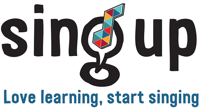 Creative Music Teaching for KS1 Practitioners
Monday 12 February 2018, 10am – 3pm, Newcastle Upon Tyne
Tuesday 13 February 2018, 10am – 3pm, London
This course and approach is suitable for anyone who is new to, lacks confidence in, or wants a refresher of delivering music-making activities with pupils in KS1.
This is a training session focusing on creating engaging music lessons. Participants will gain ideas for planning and organising lessons, learn adaptable techniques and approaches and try out songs and games to incorporate into music lessons. The session will explore a unit of work that will help you develop music as a subject in your school or setting.
Improve musical learning with singing
Tuesday 13 February 2018, 10am – 3pm, Newcastle Upon Tyne
Wednesday 14 February 2018, 10am – 3pm, London
This training course is ideal for anyone teaching music in primary schools, from primary teachers and music coordinators to visiting staff who deliver whole class ensemble teaching.
The training is from Sing Up and Drums for schools, and will show you how to create transformational whole-class singing and instrumental experiences by building percussion and instrumental tuition into singing sessions, and vice versa.
Training in Newcastle Upon Tyne will take place at the Gosforth Civic Theatre.
London training will take place at Bloomsbury House. Refreshments and lunch will be provided.
Each training event is priced at £75 and a discount is available for Sing Up Members. You do not have to be a Sing Up Member to attend the training events.
Places are expect to fill up quickly, so book now to make sure you don't miss out.
For more information and to book your place, please visit www.singup.org/training
Sing Up began as a government funded programme to reinstate singing in primary schools in 2007. It was a very successful programme, reaching 98% of primary schools by 2012. 2017 will mark Sing Up's 10th birthday. Since 2012, when the funding stopped, we have sustained ourself entirely through earned income from schools' membership subscriptions and the continued loyalty and investment from schools is a sign of the value they place on singing and on the work of Sing Up. To our knowledge it is also the only previously fully-funded government initiative which has been able to keep going entirely from self-generated income.
Sing Up has always been a champion of the wider benefits of singing – for education, social and health outcomes – and are marking our 10th birthday in 2017 by launching the Sing Up Foundation, a new charity with a commitment to a new charitable purpose around singing.
Training Leader: Shelly Ambury, Sing Up's Head of Learning. Shelly has vast experience of music and music education. She has worked for the BBC and the Guildhall School of Music and Drama, sung professionally and lead numerous choirs. Shelly has over a decade's experience as a teacher and Head of Music in secondary education.
Training Leader: Charlotte is Sing Up's Learning Executive. Having gained a Degree in Arts Education, she has built up a wide range of experience as a workshop facilitator, freelance arts animateur, trainer, Primary School Teacher and Music coordinator. She is also an enthusiastic participant in a wide range of activities throughout the arts.
Training Leader: Andy Gleadhill, Drums for schools. Andy has over 35 years experience as a professional musician playing all over the world. He also has extensive experience as a music educator and as a deliverer of music teacher development working at every level from early years to post graduate and beyond.
For further information please contact Claire Le Tissier:
claire.letissier@singup.org
t. +44 (0) 20 7908 5149
Twitter: @SingUpTweets
Attend this event
Places are expect to fill up quickly, so book now to make sure you don't miss out.
For more information and to book your place, please visit www.singup.org/training
This event has passed
Browse all upcoming events or sign up to receive our monthly email update featuring our latest news and events.