National Youth Choirs of Great Britain: Spring Open Events – Cancelled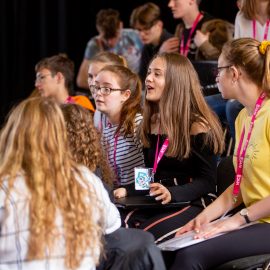 NYCGB Open Events are a great way to find out what it's like to be part of the National Youth Choirs of Great Britain. Places are free and must be booked in advance.
7 April, Harrogate Ladies College, Harrogate
14 April, Clifton College, Bristol
17 April, Tudor Hall School, Banbury
NYCGB are holding 3 free Open Events in Harrogate, Bristol and Banbury this April, which are aimed at music / singing teachers and young singers and their families, who are interested in finding out more about the National Youth Choirs of Great Britain (NYCGB) and in particular the National Youth Boys' Choir, the National Youth Girls' Choir and the National Youth Training Choir.
Open Events are timed to coincide with our residential courses and provide an idea of what it's really like on an NYCGB course.
Being part of one of our choirs can be a life-changing experience. Join us at one of our friendly and welcoming open events to find out more. Financial assistance is available towards the cost of auditions and membership.
Our junior and training choir auditions take place in the autumn. Join our mailing list here to be kept up to date with the latest announcements: https://www.nycgb.org.uk/forms/sign-up
This event has passed
Browse all upcoming events or sign up to receive our monthly email update featuring our latest news and events.