National Youth Choir Auditions 2020/21- via Zoom
National Youth Choir Auditions 2020/21- to go ahead via Zoom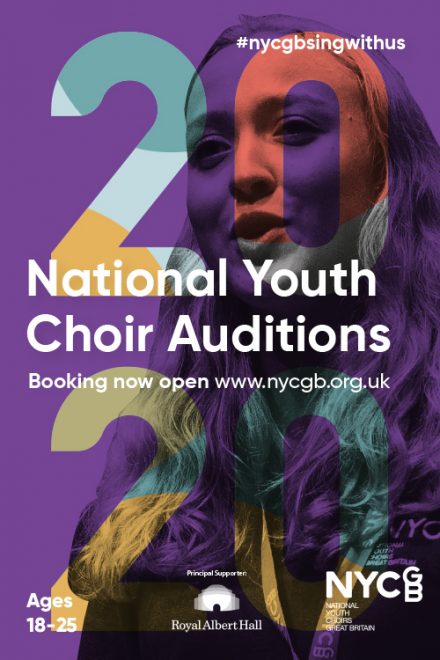 Despite the current uncertainty surrounding Covid-19, auditions for the National Youth Choir will go ahead in May as planned and will be offered digitally via Zoom.
The UK's leading youth choir for outstanding singers aged 18-25, is home to some of the best young singers in the world. Members from a diverse range of backgrounds come together to take part in a unique year-round training and performance programme, working with world-class musicians andcoaches. The choir performs as part of major national and international festivals and events such as the American Choral Directors Association Conference and the 100th anniversary commemorations of WWI at Amiens in 2018, which was broadcast live on BBC2 and performed to an audience including HRH the Duke of Cambridge and the Prime Minister. High profile festival performances include the BBC Proms, Snape Proms and Three Choirs Festival. The National Youth Choir regularly performs at the UK's most prominent concert venues including the Royal Albert Hall, Royal Festival Hall, Birmingham Symphony Hall and Sage Gateshead.
National Youth Choir members gain extensive experience of developing and premiering new choral music and the programme is designed not only to support them to grow their singing potential to the highest level, but also to gain invaluable real-world professional skills and experience.
NYCGB has five choirs for different age groups. To audition for the National Youth Choir singers must be aged 18 on 31st August 2020 to age 22 on 31st August 2021 (to age 25 for current members re-auditioning).
NYCGB wants all its choirs to represent the diversity of the UK's young people and celebrates every individual from any background. The organisation passionately believes that choral singing is for everyone and strongly encourages all talented young singers to audition to join their choirs.
Audition fee and financial assistance
As this year's National Youth Choir auditions are offered online via Zoom due to the current situation with Covid-19, we are able to offer a reduced audition fee of £15, which is to cover administrative costs. Financial assistance is available towards the cost of auditions and membership. Full details are available at: https://www.nycgb.org.uk/financial-assistance
Audition bookings can be made online at www.nycgb.org.uk. Booking closes: Thursday 30th April
2020 Audition dates and times: 
Monday 4th May: 10am – 4:30pm
Wednesday 6th May: 10am – 4:30pm
Monday 11th May: 10am – 4:30pm
Wednesday 13th May: 10am – 4:30pm
The National Youth Choir is for singers aged 18-25. Auditions for the National Youth Boys' Choir, the National Youth Girls' Choir and the National Youth Training Choir will take place in autumn 2020, with more details to be announced this summer.News on applications for the NYCGB Fellowship programme will be announced in early summer.
To receive NYCGB news updates, sign up to the mailing list at https://www.nycgb.org.uk/forms/sign-up
This event has passed
Browse all upcoming events or sign up to receive our monthly email update featuring our latest news and events.