National Youth Choir 2021 Auditions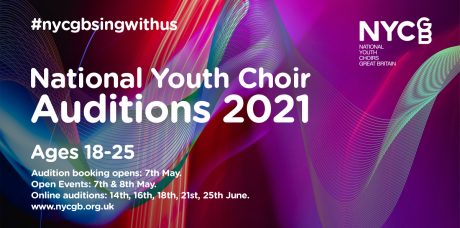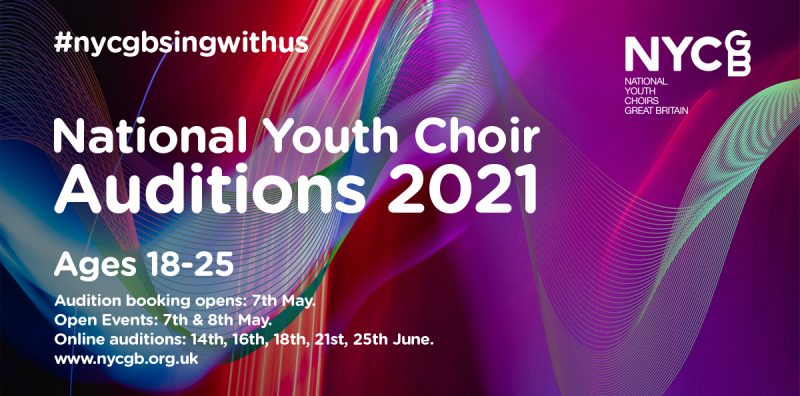 The National Youth Choirs of Great Britain (NYCGB) is looking for talented singers aged 18-22 (age 25 for existing members), from all backgrounds & communities across the UK to audition for the National Youth Choir.
NYCGB particularly encourages and supports young people who are currently underrepresented in choral music, including young people from Black, Asian and minority ethnic communities, disabled people and those from lower-income families to audition. Financial assistance is available towards the cost of auditions and the annual programme fee. More details can be found here
National Youth Choir members come together to take part in a unique year-round training and performance programme. They work with and are inspired by world-class musicians and coaches and are part of major national and international events, concerts and festivals, performing at high profile venues including the Royal Albert Hall. They gain extensive experience of developing and premiering new choral music in live performance and via digital media, sing alongside the most gifted young singers in the UK, develop their skills to the highest level, and make life-long friends. Members grow in confidence, fulfil their singing potential and gain professional skills such as team-working, communication, leadership and creativity.
---
2021/22 Audition dates and times: 
Monday 14th June: 10am – 4:30pm | Wednesday 16th June: 10am – 4:30pm | Friday 18th June: 10am – 4.30pm | Monday 21st June: 10am – 4:30pm | Wednesday 23rd June: 9.30am – 4:30pm | Friday 25th June: 9.30am – 4.30pm
Attend this event
Audition booking opens on Friday 7 May at 10:00am and closes on Monday 7 June at 4:00pm.
Auditions are offered online via Zoom, with a reduced audition fee of £20.
This event has passed
Browse all upcoming events or sign up to receive our monthly email update featuring our latest news and events.