Music Mark x Why Music Present: Hindustani music w/ Pete Yelding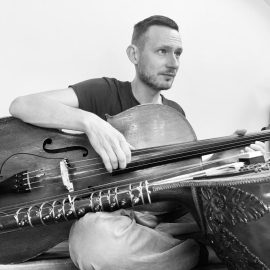 Curated by Why Music's Nate Holder, this series of events brings talented musicians and music educators worldwide to explore overlooked and/or marginalised genres within music education.
In this session, you will get a historical overview of Hindustani Music, dispelling some of the myths surrounding the art form, whilst learning to understand ragas and how to "feel" – as well as count – taal. Pete will explore the different styles of Hindustani music, as well as the approaches to playing different instruments and – finally – ways of participating and encouraging participation.
This event is part of a series with Why Music.
Other events in the series include:
Music Mark x Why Music Present: Grime, Trap and Pop using Music Technology w/ Max Wheeler – 21 September
Pete Yelding – Bio:
Pete is a cellist, sitarist and vocalist from a family of travelling Showpeople. In his music, he awakens the interweaving musical threads and histories of the musical cultures that shaped his life.
Growing up in a family of performers and artists, surrounded by musicians from all over the world, he was always set to have a wide pallet of musical knowledge from which to draw in his work. He began his sitar training in North Indian Classical Music during his cello and composition studies at Birmingham Conservatoire and later studied with Jonathan Mayer of the Senia veen-kar Gharana. Since, Pete has become a student of the legendary Sarod player, Ustad Irfan Muhammad Khan, the inheritor and Khalif (chief) of the Lucknow Shahjahanpur Gharana. Pete has also received vocal tuition from Rauf Saami (son of Ustad Naseeruddin Saami) and tuition in string performance techniques from Mandinka Griots and masters of the Kora, Sura Susso and Jally Kebba Susso, as well as Fulani Griot and master of the Riti, Juldeh Camara.
He has collaborated with artists such as Zinzi Minott, Talvin Singh, and Sura Susso; and organisations such as the Royal Shakespeare Company, Bristol Old Vic, Cape Farewell and Charanga. Pete is currently studying towards a PhD at Bath Spa and Exeter universities, funded by the South West and Wales Doctoral Training Partnership, in which he is exploring the process of translating musical knowledge of the Lucknow Shahjahanpur Gharana from sitar to cello.