Music Mark's Spring Summit 2020 – Postponed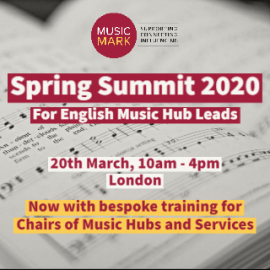 For the safety of attendees, the Spring Summit and Chairs training has been postponed 
Music Mark hosts its annual Spring Summit; an opportunity for heads and leaders of Music Services/Hubs to discuss current issues impacting them. This member-only event focuses on English policy and practice although wider UK members are welcome to attend.  
Alongside Music Mark's 2020 Spring Summit, Chairs of Music Education Hubs/Services boards are invited to join us for a morning of bespoke training and collaborative thinking. This training will give Chairs the opportunity to discuss best practice; good governance, challenges and opportunities, and responsibilities of the Chair and Chair/CEO relationship amongst many more topics. Additionally, it will provide Chairs with the opportunity to meet and network with their counterparts from across the country.
Spring Summit Agenda:
West Midlands Music  – Working out the benefits of working together by focusing on our core work
LCEPs and Music Education Hubs
WCET– what is the future for this Core Role?
Joint session of Hub Chairs and Leaders including roundtable discussion – led by the Association of Chairs
COVID-19 – What do we know, what do we do?
DfE & ACE updates
The Last Word – James Dickinson
Chairs Training Agenda:
Chairs' Training with Ruth Lesirge from the Association of Chairs (10am – 12noon)
Joint session, Chairs and Hub/Service Leaders with Ruth Lesirge (12 – 1pm)
Networking Lunch (1pm – 2pm)
Chairs are welcome to stay for the rest of the afternoon's Spring Summit agenda
This training will be delivered by Co-founder of the Association of Chairs, Ruth Lesirge, with kind support from Arts Council. Working with Ros Oakley, Ruth co-authored two books – A Chair's Compass guide for charity Chairs, as well as A Question of Balance, a guide to the Chair-Chief Executive relationship. Read our interview with Ruth here.
Booking Info
This is a member-only event. Booking is limited to 2 individuals per Hub + the Hub Chair.
Price:
£85 + VAT per delegate – Music Service/Hub Lead Ticket (limit of 2 per hub lead/service)
£40 + VAT per delegate – Chair of Board Ticket
This event has passed
Browse all upcoming events or sign up to receive our monthly email update featuring our latest news and events.