Music Mark Annual Conference 2019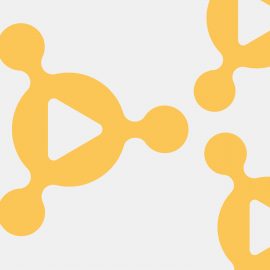 Play the Bigger Game
Partnership, Collaboration and Enterprise
The Music Mark Annual Conference travels to Sheffield for its 2019 edition.
Network with colleagues from across the country, be inspired by panel discussions and choose from a wide range of workshops on music education strategy and practical CPD for teachers.
This year, we'll be digging deep into case studies of inspiring collaborations, exploring enterprising and inclusive programmes from across the country. We are thrilled to have join us as our Keynote speakers: former Mayor of Sheffield and Green MEP Magid Magid; Susanna Eastburn MBE, CEO of Sound and Music; and Diana Johnson MP, Chair of the APPG for Music Education.
And for all our instrumental and classroom teachers, we've created Teach Together; a half day of fun, practical CPD sessions for the music in the classroom. See you there!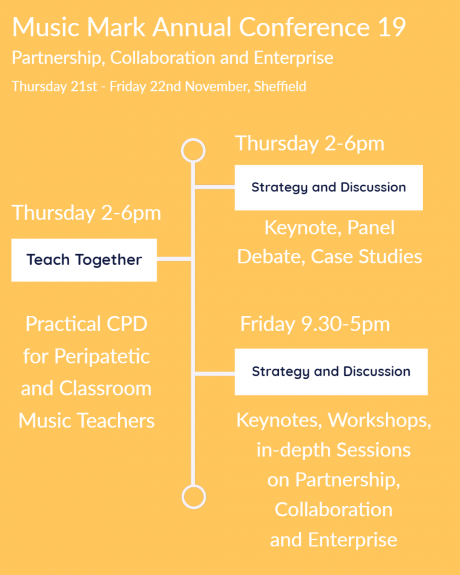 Thursday 21st of November 2019
Registration and Corporate Exhibition: 1pm
Conference: 2- 6pm
Drinks reception and exhibition:  7pm
Dinner: 8pm
Friday 22nd of November 2019
Registration and Corporate Exhibition: 8.30am
Conference: 9.30am – 5pm
Attend this event
Pick and mix, attend just one day or stay with us for the whole conference!
Early bird ends October 2nd. Ticket prices will thereafter increase by 10%.
PLEASE NOTE: Jurys Inn hotel is a 10 min walk from Conference venue. 
Early Bird Pricing
Full Conference
Members: £350.00
Non Members: £450.00
Thursday PM  M: £50.00  NM: £85.00
Dinner  M: £55.00  NM: £70.00
Hotel (B&B)  M: £120.00  NM: £120.00
Friday All Day  M: £125.00  NM: £175.00
Young Person (up to 25 yrs) Thursday
M: £20.00   NM: £40.00
Young Person (up to 25 yrs)  All day Friday
M: £30.00   NM: £60.00
Non Early Bird Pricing
Full Conference
Members:  £385.00
Non Members:  £495.00
Thursday PM   M:£55.00   NM:  £93.50
Dinner  M: £60.50    NM:  £77.00
Hotel (B&B)  M:  £132.00  NM:  £132.00
Friday  M:£137.50   NM:  £192.50
Young Person (up to 25 yrs) Thursday
M: £22.00   NM: £44.00
Young Person (up to 25 yrs)  All day Friday
M:  £33.00   NM:  £66.00