Music Mark Annual Conference 2018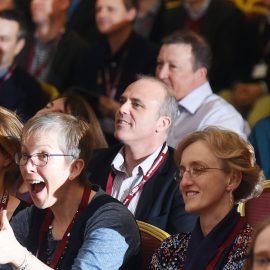 The debate continues on the current state of Music Education and most importantly, its future. This year's theme is Youth Voice as we invite both children and young people, as well as their parents, to inform the national debate.
Network with over 350 delegates, choose from a wide range of breakout sessions, workshops and CPD sessions, and be inspired by Keynote speakers such as MOBO award-winning musician and chair of Youth Music, YolanDa Brown. Make sure you are part of the discussion and your voice is heard!
The Music Mark Annual Conference will run from Thursday 3pm, 22nd of November 2018 to Friday 5pm, 23rd of November 2018.
Thursday 22 November 
Registration and Corporate Exhibition from 2pm  – Conference Start 3pm – 6.30pm – Dinner 6.30pm
Friday 23 November
Registration from 8.30am – Conference Start 9.30am – 5pm
Music Mark lobbies on behalf of its membership and the wider sector for the importance of an equitable, diverse, and fully accessible quality music education in and out of the classroom. Music Mark contributes to national discussions, carries out extensive consultation into the future of Music Education and meets with the DfE regularly to ensure continued dialogue as the department prepares to update the National Plan of Music Education. The focus of its upcoming Annual Conference on the 22nd and 23rd of November is Youth Voice and includes youth panels and inspirational young speakers and students. Music Mark believes their voices, as well as those of their parents, must be included in any future National Plan.
Further information announced soon
Attend this event
Priority booking – with an early bird rate – opens to Members July 5th. If you are a Member, please get in touch to access booking form.
General booking for Non Members opens in September. Booking form will be available from this page.
Prices:
All rates below are Early Bird Rates. Prices will go up for by 5% for Members and Non-Members October 19th.
All rates below are Early Bird Rates. Prices will go up for by 5% for Members and Non-Members October 19th.