Music Mark Annual Conference 2017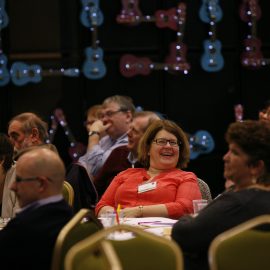 The Music Mark Annual Conference is a two-day conference for those who share a belief in the power of music education to make a difference to the lives of children and young people.
The theme of our 2017 conference is Diversity, Equity and Inclusion and our series of keynotes, panel discussions and curated breakout sessions have been carefully crafted with our members in mind. From Heads of Service to the wider leadership team, instrumental and vocal teachers and business managers, there are pathways through the conference that we hope will inspire and influence your thinking and your practice. There will be many opportunities for you to reflect on your work, share your expertise, learn from others, network with old and new colleagues, and for us all to remind ourselves of why we do what we do in our practical and participatory sessions. We'll also provide a platform for several groups of young musicians to perform throughout the two days and you'll have the opportunity to browse our exhibition, showcasing the latest services and products for the music education sector.
Our keynote speakers are Music Mark Patron Charles Hazelwood and professional musician John Kelly.  We will be sharing information about the conference here on our website and also on twitter over the coming weeks (use #MusicMark2017 if you also want to tweet about it).
For those booking before the 31st October we've kept the prices for many of the conference packages at the 2016 rates (and actually reduced a few) .
So book your place now!
Music Mark are committed to ensuring that your accessibility requirements are met; this includes not just wheelchair users but people with hearing loss, visual or mental impairment. Please detail any access requirements you have when booking your ticket or feel free to contact us to discuss in advance of booking: tel. 020 7939 6049 email. info@musicmark.org.uk
PROGRAMME NOW AVAILABLE
This event has passed
Browse all upcoming events or sign up to receive our monthly email update featuring our latest news and events.