Music For Youth – The Future Is Now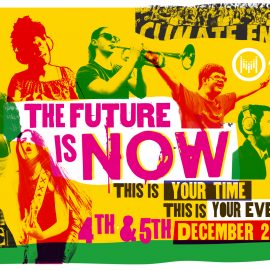 The Future Is Now, Music For Youth's FREE two-day online event featuring live workshops and music sessions, mentoring opportunities and support from music leaders, and over 250 inspirational new music videos from young artists to view via our dedicated music channel.
Across the two days, you and your young musicians will be able to engage creatively with the issues that concern them; be inspired by what other young musicians are doing and get advice and support from MFY Music Mentors and Ambassador Love Ssega.
Highlights include:
Create Your Own Musical Soundscape with MFY Mentor Neil Valentine
Using classroom percussion, body percussion and your voices, Neil will lead you in creating your own unique forest soundscape. An ideal classroom activity for pupils aged 6 and over.
The Changing Faces of Vocalisation
Renowned Vocal Coach and Choir Director Mark De-Lisser will be zooming into primary classrooms across the country. Exploring how creative we can be with our voices, this practical session will show how subtle vocal changes can be applied to suit different musical styles. Recommended for ages 8 to 12.
Beginning a Beat
Watch Mel Uye-Parker create a track on Ableton in real-time and work alongside her to create your own piece! A fantastic composition workshop for anyone aged 13 to 18.
Play-Along: Friday Night Jazz
Enter the world of jazz improvisation, from the comfort of your own home, with expert guidance from NMPAT tutor Jamie Glew.
Rise and Shine!
Wake up and get ready for a fun day of music-making on the Saturday with this live interactive vocal and physical warm-up.
The Evolution of Song
Join singer, songwriter and MFY Music Mentor Bridget Walsh on a journey of music production: from writing, development, arranging, recording, bringing in a band, working with producers to post-production.
The Lunchtime Interview
We talk all things music with our special guest, Love Ssega.
Sound artist, composer and DJ Jason Singh
DJ Jason Singh plays you his pick of new works by young artists and bands involved in The Future Is Now on his Live Radio Show. The young artists featured on the show are also invited to a virtual after show party, where they will be buddied up with a student producer from the Royal Northern College of Music.
Mentors On Call
Throughout Saturday groups and individuals who submitted for The Future Is Now are invited to book 30-minute slots with our very own MFY Music Mentors, Adey Grummet, Sam Dunkley, Jennifer John and Andy Grappy and Love Ssega will be offering his advice and feedback in a series of personalised music clinics for young artists and bands.
This event has passed
Browse all upcoming events or sign up to receive our monthly email update featuring our latest news and events.