Music and Social Justice Network- Postponed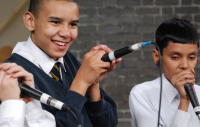 "We are suspending all theatre performances, workshops, events and training in response to latest government guidance to slow the spread of Coronavirus."
This is the final session in a series of three workshops facilitated by youth worker and journalist Ciaran Thapar.
This series of workshops will explore the role that music plays for young people in the contemporary British city and rapidly unfolding digital age. From this context, it will draw theoretical and practical lessons on how to use social and musical education to be as impactful and inclusive as possible whilst working with young people. The focus throughout will be on current music genres, such as Drill, that are popular amongst young people. It will be accessible and beneficial to curious education professionals of all ages and backgrounds.
Who is this session for?
Educators, teachers, youth workers, charity-sector workers (programme advocacy and communications), professionals who would like to improve their understanding about how trends in contemporary urban society relates to music being made by young people within it — and how this can inform best practice in education / youth work.
Led by experienced practitioners from different fields of expertise, the workshops will be dynamic, relevant and practical. Participants will gain:
o    An improved awareness about how current social and technological trends in the UK are impacting the lives, educational experiences, career prospects and forms of self-expression of young people.
o    An improved understanding of the modern urban music landscape in terms of genre categorisation, important lyrical themes, styles of production, and forms of mediation in the digital age.
o    Improved knowledge about current academic, journalistic and industry-based conversations regarding modern music from the city.
o    Practical tools for harnessing modern music — its content, form, and social context — to facilitate critical educational experiences and engage with young people inclusively.
o    Practical tools for youth workers, teachers and charity professionals to govern and communicate more effectively with young people.
More detailed information about the content of this event to follow soon.
Tea and coffee will be provided.
More information on the event can be found here.
This event has passed
Browse all upcoming events or sign up to receive our monthly email update featuring our latest news and events.