Museums Supporting Young People's Music Education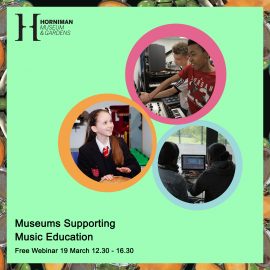 How can museums build successful partnerships with schools and arts organisations? And how can museums and facilitators create music making experiences for hard to reach, disadvantaged young people? How can we help young people to access and use museum musical instrument collections?
This half-day webinar will bring together speakers from a range of museums, arts organisations and formal learning providers, to showcase successful music programmes, all designed with and for young people.
Our speakers will explore the importance of partnerships in developing appealing, accessible music programmes that support young people's music education, creative ambitions or career goals. They will present case studies that show how young people's ideas and programmes can ensure that musical instrument collections remain relevant, and have a life beyond the display case.
This webinar aims to inspire museums, schools, arts organisations and music facilitators to explore new ways of supporting young people's engagement with music.
This event is generously supported by Art Fund
This event has passed
Browse all upcoming events or sign up to receive our monthly email update featuring our latest news and events.