London Saxophone Festival 2018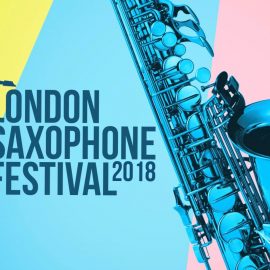 The London Saxophone Festival 2018 is the first of its kind, in celebration of the saxophone through concerts, film, workshops and more. Bringing together lovers of the saxophone, worldwide musicians, music fans and students alike, this pioneering festival is for Londoners and visitors to celebrate, appreciate and learn more about the saxophone. It will also provide a platform for saxophone players and non saxophone player to collaborate, showcase and play the instrument, representing a wide range of musical styles and genres.
Confirmed events so far:
21st May
Everyman Kings Cross
Screening of "Bird" with music in the bar before.
23rd May
Alexander Bone
BBC Young Jazz Musician of the Year Winner
Pizza Express, Holborn London
24th May
Evan Parker
Legendary British Free Jazz Icon
Vortex, Dalston London
24th May
Everyman Muswell Hill.
Screening of "The Talented Mr Ripley" with music in the bar before
25th May
YolanDa Brown
Double MOBO Award Winner
Jazz Cafe, Camden London
26th May
Bob Reynolds (Snarky Puppy) + Casey Benjamin (Robert Glasper Experiment)
Cadogan Hall, Sloane Square London
25th, 26th, 27th May
Steve Norman (Spandau Ballet)
Pizza Express, Holborn London
26th May (11am – 8.30pm)
Sax Village & Family Day
Foyer Cadogan Hall (Free Admission)