Listen, Imagine, Compose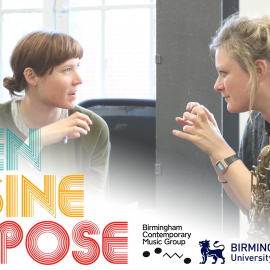 Sound and Music is excited to announce the next series of Listen Imagine Compose Teacher Network Events for secondary school music teachers.
Listen Imagine Compose is a partnership project between Sound and Music, Birmingham Contemporary Music Group and Birmingham City University investigating how composing is taught and learned within secondary schools.
These informal, free events draw on the research generated by Listen Imagine Compose and offer teachers a chance to explore its findings, share personal experiences and to discover practical solutions to teaching composing.
15th November 4.30pm – 6.30pm, Lancashire (Parklands Academy, Chorley PR7 1LL)
This session is offered to Lancashire based secondary school teachers in partnership with the Lancashire Music Hub and will be led by composer and pianist David Horne (RNCM, Head of Graduate Studies) Book now
12th November 5.00pm – 7.30pm, London (Wigmore Hall)
This session is open to all secondary school music teachers and will be led by composer and music educator Kirsty Devaney. Book now
28th November 4.30pm-7.30pm, Birmingham (University of Birmingham School, B29 6QU)
This session is open to all secondary school music teachers and will be led by Professor Martin Fautley, director of research in the school of education and social work at Birmingham City University. Book now
Attend this event
If your hub would like to discuss hosting a Teacher Network Event please get in touch