Learn To Play Day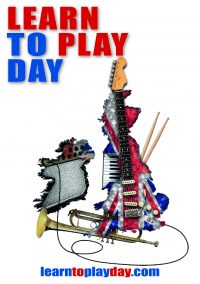 Join us on 17th & 18th of March 2018, for Music for All's UK-wide event. Returning for its' seventh year, the Learn to Play Day will once again offer the general public the chance to have a free 'taster' lesson on a range of musical instruments.
In 2017, over 120 venues put on events. Music shops are the bedrock of venues taking part, but many other groups run events on the day including Music Services, Churches, rehearsal rooms, music schools and community music projects….all are very welcome! Over 12,000 free lessons were given in 2017 with up to a third of people going on to continue their musical journey.
To see the day in action, go to http://www.musicforall.org.uk/learntoplayday/
Music for All's aim for Learn to Play Day is to create a whole host of new music makers and to bring lapsed musicians back into action. For those of you wanting to hold an event, it's a truly fun day and really great publicity for your shop/organisation; you'd be surprised as to how much of the public don't know that you're there! Although opening up your doors and making your instruments accessible is really effective, there's many ways to be creative with your event – last year the Musicroom store in Edinburgh created "Fleetwood Macintosh" for the day, Rhythm Room pitched up at Togfest (a music festival in Milton Keynes) and at PMT Norwich you could book a trial drum lesson with Ash Soan, who is the drummer for Adele, Robbie Williams, Cher, Celine Dion and more!
To register your interest, please email alice@mia.org.uk and don't miss out on this great opportunity!
If you have registered, complete and send your LTPD Checklist to alice@mia.org.uk to be featured on the Learn to Play Day map.
This event has passed
Browse all upcoming events or sign up to receive our monthly email update featuring our latest news and events.