Join the National Youth Folk Ensemble 2017-18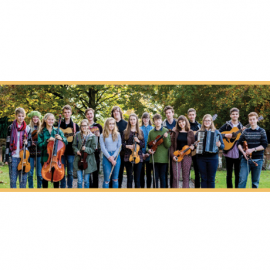 The National Youth Folk Ensemble is for talented young instrumentalists aged 14- 18 who are dedicated to developing as folk musicians and excited about collaborating with others who share their passion!
Ensemble members will participate in four weeks of intensive residential courses in different parts of England and receive high quality tuition and guidance from leading folk musicians. They will develop skills in performance, arrangement and leadership as well as give public performances.
Sampler Days are an inspiring introduction to the Ensemble, including free creative workshops with Artistic Director Sam Sweeney, short individual auditions and a Q&A. To register for a Sampler Day, musicians should be aged between 14 and 18 on 1 September 2017, live in England, be able to play confidently on any instrument and have an interest in folk music. Young musicians who meet the criteria but don't wish to audition for the Ensemble are welcome to take part in the workshops.
Saturday 27 May
Sunday 28 May
Royal Northern College of Music,
MANCHESTER
Monday 29 May
Tuesday 30 May
University of Sheffield, SHEFFIELD
Wednesday 31 May
Stamford Arts Centre, STAMFORD
Friday 2 June
Saturday 3 June
Sunday 4 June
This event has passed
Browse all upcoming events or sign up to receive our monthly email update featuring our latest news and events.