Inclusive Practice in Action: Power and Privilege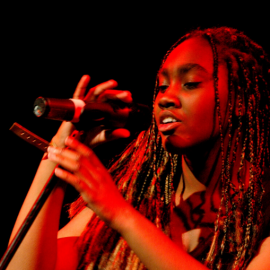 In our annual gathering this year we will be opening up a dialogue on what power and privilege means in music education and for those working with and for children and young people. Who holds power when deciding on what is offered? How? And by whom? Do projects determine funders outcomes or the other way round? How are we enabling young peoples' voices to be at the heart of projects, organisations and proposals? How does privilege affect experiences of music education, and entry into the music education workforce? How can voices of marginalised communities be heard and understood?
Hosted by Talia Randall, speakers from outside the music education sector including Imrana Mahmood (Arts Educationalist), Reveal Poison (Poet and Rap Artist) and Claire Mera Nelson (Director of Music, Arts Council England) will offer their perspective and insight. Breakout sessions will provide an opportunity for individuals and organisations to share best practice, theories and ideas. During breaks, delegates will be able to have Development Needs Analysis one-to-one sessions with the Sound Connections team. Talia will bring all of this together in a Long Table event at the end of the day, to enable all expertise, opinion and thought to be shared meaningfully in an interactive discussion.
We are experimenting with a new format that will focus around our Long Table, which aims to improve how delegates are able to engage meaningfully with larger events.
We hope to see you there, to join the Long Table discussions, network with a range of people from within and beyond the music education sector, and further your own thinking and practice.
Some travel bursaries are available for practitioners who aren't London based, please email admin@sound-connections.org.uk for details.
Sessions Shout Out
We are inviting proposals for workshop sessions for the Sound Connections Inclusive Practice in Action event on Thursday 13th February 2020 at Amnesty International, London.
The event theme is power and privilege in music education and for those working with children and young people. Sessions should address this theme, and should fall into one or more of Sound Connections' key areas of work: youth voice; music and social justice; music in the early years.
Sessions are 45 minutes in length, and could be a presentation of research or work in progress; a panel discussion; a workshop; a case study of best practice; or even something a bit different…!
Core areas that our network have said they want to find out more about, and which we will be particularly looking to programme sessions on are:
Mental health and wellbeing
Equality, inclusion and diversity
Working with young people with special educational needs
Effective teaching and learning strategies for music
Social model of disability
Family engagement
Working with young people in challenging circumstances
Sound Connections is part of the Alliance for a Musically Inclusive England (AMIE), a network of organisations working together to promote equity in music education. All sessions will need to demonstrate how they are embedding inclusive ways of working throughout music education.
We are able to offer workshop leaders / presenters a free place at the whole event (up to 2 people per session), and have travel bursaries available for those outside London. We are also able to offer free places for personal assistants/carers who are supporting delegates with a disability. Please contact Emily at admin@sound-connections.org.ukfor details.
Please complete this form by Friday 6th December 2019 to nominate your session. A panel of experts from Sound Connections' Music and Social Justice network, London Early Years Music network and Wired4Music will agree the final sessions, and we will inform people of the outcome by 20th December 2019.
Attend this event
£35 freelance rate; £60 organisations with a turnover of less than £250k; £90 organisations with a turnover of more than £250k
Flash sale on tickets until 15th November: use code FlashsaleNov for a 10% discount
To attend this event, please book below.
This event has passed
Browse all upcoming events or sign up to receive our monthly email update featuring our latest news and events.