Inclusive Practice in Action: Diversifying the Music Education Workforce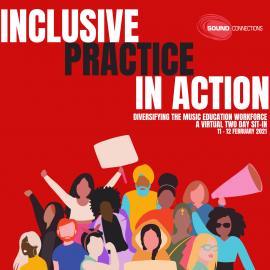 The killing of George Floyd in May 2020 sent shockwaves worldwide. It brought to the foreground the incidences of racism and social injustice that many Black people experience daily, not only in the USA but also in the UK. It exposed institutional racism, alongside the conscious and unconscious bias of individuals.
If we as music education organisations and individuals are to continue this movement and enact long-term systematic change, we need to make genuine space for visible and accessible discussions, and we all need to be involved. Sound Connections therefore invite you to their virtual sit-in Inclusive Practice in Action to work together to take practical action to ensure music education is inclusive and diverse.
This event has passed
Browse all upcoming events or sign up to receive our monthly email update featuring our latest news and events.