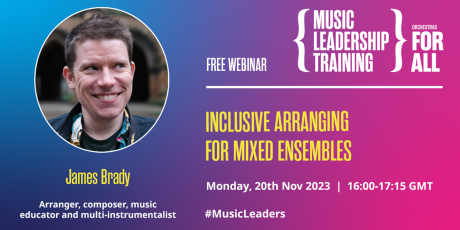 Since 2011, national youth music charity, Orchestras for All (OFA), has been bringing together beginners and experienced players from all across the UK through its inclusive music-making activities, celebrating young people from diverse backgrounds as well as instruments from all kinds of musical traditions.
Titled 'Inclusive Arranging for Mixed Ensembles', OFA's forthcoming live webinar draws on the experience of two of its life-changing programmes, National Orchestra for All and Modulo, which welcome all young people to their ensembles regardless of musical ability or personal circumstances.
Led by Glasgow-based arranger, composer, music educator and multi-instrumentalist, James Brady, this dynamic session will focus on how to create bespoke, flexible and large-scale arrangements. Alongside being introduced to a series of arranging techniques and approaches, James will also explore the importance of repertoire choice, instrumentation templates and the essential connection between musical content and rehearsal techniques.
While Brady's first language in music is jazz, he also enjoys working with classical repertoire, Celtic folk traditions, music from Brazil and the Balkans, and contemporary music technology, and regularly collaborates with OFA, the Royal Opera House and Sage Gateshead.
This event has passed
Browse all upcoming events or sign up to receive our monthly email update featuring our latest news and events.