Haydn Piano Concerto in G Hob XVIII:4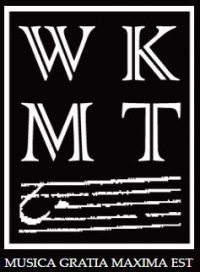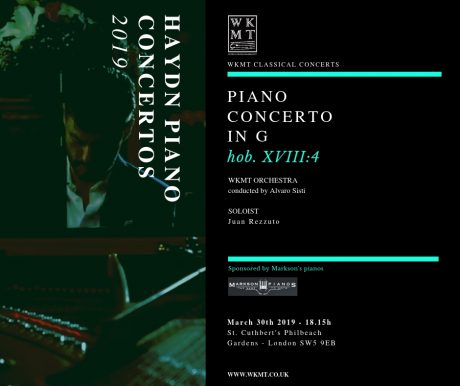 Our first concert of 2019 of the "Haydn concertos" series is programmed to happen on the 30th of March at 18.15. St. Cuthbert's Philbeach Gardens will be dressed in "fancy clothes" to welcome our enhanced WKMT orchestra and the WKMT children orchestra.
During the last months, we were pleased to incorporate new members to the London Amateur Orchestra. The latter translated into a more powerful ensemble with renovated treble and bass compounds. The main piece featured in this concert is the Haydn Piano Concerto in G Hob. XVIII:4. This piece is one of Haydn's most popular piano-soloist works together with the famous Piano Concerto in D Hob. XVIII:11. The concerto is written to be accompanied by a string orchestra. Haydn composed this concert using his distinctive "vocabulary." Its great second movement portrays the mastership of Haydn's best musical skills.
The concerto is adorned with original cadenzas by Juan Rezzuto.
Juan Rezzuto first performed this piece as a two-piano arrangement accompanied by Maestra Sabrina Curpanen at St. Cuthbert's as well. The recording of this successful concert is available at https://youtu.be/gc_emi60MA0. We are looking forward to welcoming as many enthusiast listeners as we did then. This concert series is evolving quickly and is bringing more and more people. Our dream of promoting Haydn music is coming true thanks to the support of WKMT, Markson's Pianos, St. Cuthbert's Philbeach Gardens and you.
After the Haydn piano concerto, WKMT will be featuring the WKMT Children Orchestra. Our orchestra is also in constant expansion; we have added performers to almost all the lines. In this opportunity, the orchestra will perform a collection of pieces by Dvorak, Beethoven, and Bellwood. We are looking forward to welcoming you once again at the fantastic St. Cuthbert's Philbeach Gardens to enjoy a superlative evening of classical music and music companionship.
This event has passed
Browse all upcoming events or sign up to receive our monthly email update featuring our latest news and events.