Greater Lincolnshire: Young Conductors
In partnership with North Lincolnshire Music Hub, abcd is offering two separate days of conductor training for young musicians between the ages of 14 and 18. This is a fantastic opportunity for young musicians to learn about basic conducting skills and have the opportunity to practice these skills on the podium in a stimulating day of active participation, observation and ideas.
Further information can be found here.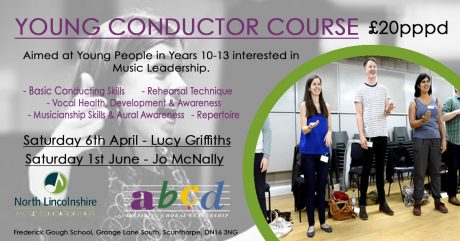 Attend this event
Price: £20 per day.
N.B. Please note this is a one-day course, which is being repeated. This abcd/North Lincolnshire Music Hub Education course also takes place June 1st.
This event has passed
Browse all upcoming events or sign up to receive our monthly email update featuring our latest news and events.