Figurenotes: Developing Your Practice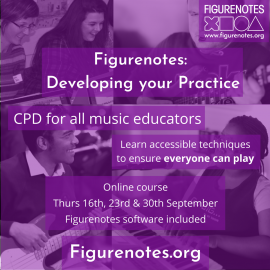 Figurenotes is brilliant for all beginners and was designed for learners with additional support needs, including autism and dyslexia.
Our online training programme consists of three interactive Zoom sessions, plus a 1:1 session with course leaders to focus entirely on you and your work. You can attend from anywhere with an internet connection. You'll also receive a copy of the latest Figurenotes software, enabling you to fully engage with the course activities.
Dates: Thursdays 16th, 23rd, and 30th September 2021, plus 1:1 session.
Each interactive session lasts 2 hours. There will be opportunities to meet and collaborate with fellow music educators, to discuss your student's specific needs, and workshop relevant solutions that you can take away with you. Alongside these interactive sessions, you'll be guided through activities to help you apply Figurenotes to your own working practice.
The groups will be kept small to allow full participation from everyone, ensuring you get valuable feedback from your peers and the course leaders. You should finish this training with resources you can use straight away and a good idea of how to progress your work further.
You'll be guided through Figurenotes, from how it works, to its many applications. We will focus each session on some of the fundamentals of music-making: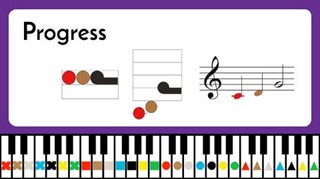 Rhythm
All musicians need to develop a solid sense of pulse. Through rhythm games and challenges, learn how to make learning rhythm fun and engaging. Figurenotes notation shows rhythm in a very logical way, which then transitions easily to standard notation.
Creative Composition
We'll explore a range of composition tools you can use in different settings. You'll learn how to build and adapt an idea in an accessible way, enabling success across a range of abilities and additional support needs.
Ensembles and Differentiation
Learn how to use Figurenotes on almost any instrument in a variety of settings. From one to one learning, full class activities, and varying ensembles, you'll be able to get your pupils playing together quickly and easily. We focus on creating accessible, inclusive ensembles.
1:1 Follow-up Session
This is an opportunity for you to work 1:1 with course leaders after the main sessions have been completed. The content of these sessions is entirely up to you. We can work with you on resources, help develop ideas, troubleshoot, or help with specific questions you may have.
Figurenotes is a notation that uses colour and shape to show pitch and rhythm, with a very clear progression towards conventional notation. People at different levels of reading can play together and progress at their own pace.
Our training is designed for music teachers, practitioners, community musicians, music therapists, and instrumental teachers. If you aren't sure about the level of basic music knowledge required and whether this training is for you, please get in touch for some guidance and we'd be happy to help.
This event has passed
Browse all upcoming events or sign up to receive our monthly email update featuring our latest news and events.