Early Years Workshop 1: The Ingredients for an impactful Early Years Project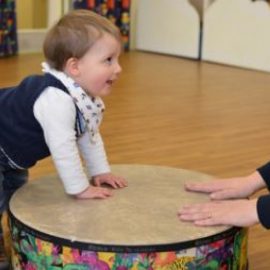 Last year Youth Music invested over £1million in music-making projects for children aged 0 – 5 (also known as the Early Years). We know that making music with our youngest members of society is important, exciting, and challenging work. It requires dedicated organisations and a dedicated workforce that are skilled & knowledgeable, reflective & adaptive and excited about championing the musical skills of young children.
Through this series of 3 workshops, we aim to explore some of the key ingredients for working with this age group.
Who these workshops are for:   
Organisations who want to develop work with 0-5 year olds and/or are thinking about applying to Youth Music
Music Education Hubs looking to embed Early Years in their offer
Organisations/Music Leaders working in the Early Years who want to reflect on their current offer and delivery.
Anyone interested in developing high quality, inclusive and child-centred music-making with 0-5 yr olds.
Led by Jane Parker (The Soundwaves Network) and Zoe Kilb (Youth Music), this workshop will explore the ingredients needed to create impactful Early Years work. Topics covered will include; the knowledge, skills & experience needed and where to find it, the practicalities of setting up a project, taking a holistic approach to work in the Early Years (and what this means!) and how to embed a child-centred and reflective approach to delivery.
We'll also give an overview of what Youth Music is looking for in Early Years projects and how you can embed Youth Music's key values of Equality, Diversity and Inclusion and Youth Voice in your work with 0-5 yr olds.
Jane Parker is The SoundWaves Network Project Lead.
Zoe Kilb is Youth Music's Programme Manager and Early Years lead.
This event has passed
Browse all upcoming events or sign up to receive our monthly email update featuring our latest news and events.