Early Childhood Music Education Forum East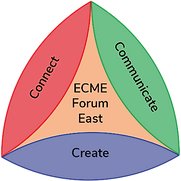 Join Early Childhood Music Education Forum East for their Face to Face Symposium to share, reflect and develop early childhood music practice. The symposium is designed for educators, practitioners and managers in East Anglia and East Midlands.
Guest speakers:
Nicola Burke (Early Childhood Music Consultant)
Linda Bance (Early Years Music Educator & Consultant)
Attend this event
Tickets:
Organisations: 1 Member (plus guest) £60
Unwaged/Freelance practitioners: £25
Book online at https://tinyurl.com/3me4hadk
This event has passed
Browse all upcoming events or sign up to receive our monthly email update featuring our latest news and events.