Digit Music: Digital Music for a Modern Music Curriculum
Build digital creativity and confidence in music education with Digit Music! Join us as we launch a series of free digital music classroom packs, igniting inspiration for young learners and building confidence for teachers.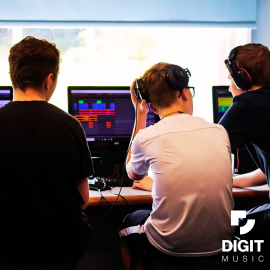 Gain confidence in bringing contemporary styles to your teaching and give your students valuable insights into the music industry with exclusive videos featuring different producers with each pack.
The Digit team will demonstrate how to effectively bring these packs into your upper KS2 and KS3-5 curriculum. With step-by-step guides, pre-prepared activities and ways to platform students' work to gain digital composition certificates, getting digital in your setting is now even easier.
The packs are compatible with any DAW music software, or if your school is not currently using any, Digit can give some advice!
3 Free Resource Packs: Explore, Pop, Trap, and Afro-Fusion crafted by Digit Music.
Remove barriers to digital composition.
Digital Literacy: Enhance students' skills for life with recording and content production.
Equitable Access: Connect to diverse musical interests, fostering inclusivity.
Industry Insights: Exclusive videos introduce students to different music producers, building professional links.
Modern Music Skills: Prepare students for the contemporary music industry.
About Digit Music
With over 30 years of experience in the music industry and education sector, we bring contemporary digital music to your curriculum making it fun, inclusive and relevant for young people. We offer accessible digital instruments, learning resources, workshops and CPD removing the complexity and putting back the creativity in music technology.
Accessibility
Technology: Zoom
Captioning: AI-Generated
Breakout rooms: TBC
If you would like to request presentation slides, questions and provocations in advance of the session, please get in touch with info@musicmark.org.uk. Speakers may decline sharing this information on the basis of protecting their intellectual property or for other reasons and we cannot therefore guarantee availability for all events.
For more information on Music Mark's commitment to creating inclusive web experiences please read our accessibility statement.