Developing musicianship through singing for instrumental teachers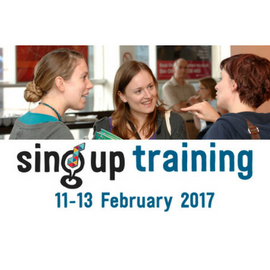 Sing Up is running a new series of training events in February 2017. Renowned for high quality training with teachers and other music education professionals when the programme was government-funded, Sing Up is now returning to its roots with a series of three sessions, taking place from 13th – 15th February 2017. The sessions will be packed with fresh themes and content, focussing on ideas not previously touched upon by Sing Up training.
Shelly Ambury, Sing Up's Head of Learning, tells us a bit more about the inspiration behind the sessions: "We're often asked to run training because it's such a valuable way to develop skills and knowledge and to meet and share ideas with colleagues from different schools or organisations. Since running the National Singing Programme we have developed a huge amount of new great songs and teaching ideas, and we want to share them."
The sessions will reflect Sing Up's unique ethos: "We aim to help teachers develop confidence, skills and knowledge so they can support their pupils in developing singing and music making skills themselves," says Shelly. "We have great songs and ideas that just work with young people, instilling a love of music as well as core musical skills."
You don't have to be a Sing Up Member to join the training events, and there are options available for primary school, secondary school and instrumental teachers.
Learn Sing Up's approach to integrating singing into your instrumental lessons as a way into developing your pupils' vocal confidence, musicianship and aural skills. Use these techniques to incorporate small amounts of high quality singing activity in your regular instrumental lessons to achieve maximum impact with your pupils. You'll explore a range of techniques you can use with different age groups and abilities, covering skills and knowledge to support KS3 – KS5 and Grades 1 – 8.
Attend this event
Places are limited, so book now to make sure you don't miss out. The cost is £75, with a discount available for Sing Up Members.
This event has passed
Browse all upcoming events or sign up to receive our monthly email update featuring our latest news and events.