Denise Ham's London Conducting Academy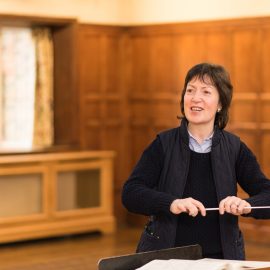 The year-long part-time course providing comprehensive training in the art and technique of conducting. Fortnightly sessions from November 2020 to July 2021 allow long-term sustained artistic development. Each session the small class works with pianist or ensemble. The course is led by Denise Ham – one of Europe's foremost teachers of conducting.
Repertoire this year includes:
Symphony no 36 in C K425 "Linz" – Mozart
Siegfried Idyll – Wagner
Pictures at an Exhibition – Mussorgsky/Ravel
Serenade for Strings – Elgar
Simple Symphony – Britten
Tod und Verklarung – Strauss
Symphonie Fantastique – Berlioz
Ma mere l'Oye – Ravel
Overture Leonora no 3 – Beethoven
The course is suitable for any musician wishing to develop their conducting, for working with professional, amateur or student orchestras or choirs. Participants generally have at least some conducting experience, a very high level of practical musicianship, and a good level of familiarity with core orchestral repertoire.
This event has passed
Browse all upcoming events or sign up to receive our monthly email update featuring our latest news and events.