Creating diverse, equal and inclusive musical environments in the Early Years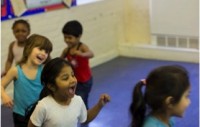 How do we support children to feel valued and supported during everyday interaction within an early years setting music session? How do we work in partnership with other professionals and parents to create non-stereotypical environments in which children are able to explore music freely? Based in a nursery, and delivered by an early years advanced practitioner, this interactive and practical workshop will provide a grassroots perspective on how to become an enabling practitioner.

In this session Anjana will share her perspective on equality, inclusion and diversity. As a group you will consider a range of resources often used in early years, and consider the impact of these. Through practical activity you will create your own or adapt an existing song to challenge stereotypes, and will reflect on what this might mean for your own practice.

This session is for early years practitioners, musicians, child minders, reception teachers, facilitators and parents.

This is one of our Community-Led training sessions, where practitioners in their communities will be sharing their practice, expertise and ideas. Sound Connections are supporting emerging practitioners to devise and deliver training courses, to bring new perspectives on inclusive practice to our network.

Anjana Rinne is an early years advanced practitioner and is the first person in London to hold the CME:EC. She plays the guitar, violin and loves to sing whenever and wherever she can. For the past 5 and a half years she have worked as an Early Years Educator in a small nursery school in North London where she leads on the music provision for the setting. It is a musical nursery that focuses on music as an important tool when working with children. Anjana feels especially passionate about making music and musical experiences accessible for all and therefore all my work is based on being inclusive, diverse and equal to all children.

Please note, this venue has accessible entry, but it does not have accessible toilets. We are working towards all of our venues being fully accessible, and checking accessibility details with venues is part of our booking process. 
Refreshments and sandwiches will be provided
This event has passed
Browse all upcoming events or sign up to receive our monthly email update featuring our latest news and events.