Creating an inclusive classroom for all at Key Stage 3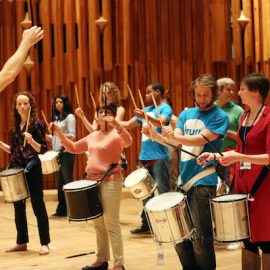 A Music Excellence London Inspire Event
This one-day conference will address the topic of inclusion and engagement in KS3 Music classrooms. With a varied programme of inspirational keynote speeches, interactive musical workshops, ideas speed-dating and sharing case studies, this event – curated by secondary music teachers in collaboration with Music Excellence London key partners – is designed to arm anyone working in KS3 Music in London with strategies, skills, contacts, support and inspiration, to take back into your classrooms and organisations the next day.
"Creating an atmosphere in the classroom where all musics and pupils are equal – isn't that what KS3 Music is all about?" – MEL Teacher Advocate
This event is aimed at secondary music teachers, peripatetic tutors, representatives of cultural organisations, Music Education Hubs, development and membership organisations, academics, policy-makers, and others involved in KS3 Music planning and delivery.
Provocations posed to spark conversations during the day include:
"Are whole-class ensembles real engagement?"
"How do you broaden your pupils' musical horizons?"
"What is the place of the discussion around 'social justice and music education' in the KS3 Music classroom?"
"Do we need to be bolder in addressing the subject of diversity in our KS3 Music classrooms?"
Music Excellence London is a is a dynamic network of classroom music teachers, music education hubs, cultural organisations, and the wider music education community which supports excellent musical teaching and learning at Key Stage 3 in London schools. From now until July 2017, 15 Teacher Advocates (representing a range of schools from across the capital) will curate a series of events including webinars, TeachMeets and Inspire Events, to create an infrastructure for peer-to-peer development, inspiration and support. Our aim is that the network will reach at least one music teacher in every London school over the course of the year through these events, our online resources and social media.
We hope that you can join us on Thursday 23 February 2017 at the iconic Cecil Sharp House to celebrate what music as a subject brings to a school's ecology; it's effectiveness in engaging pupils, a school, its staff, and the wider community.
---
Cecil Sharp House is fully accessible to wheelchair users, and the main hall has a hearing loop installed as indicated by signage within the venue. For more details on accessibility and requirements, click here. 
This event has passed
Browse all upcoming events or sign up to receive our monthly email update featuring our latest news and events.