Conductors for Change Launch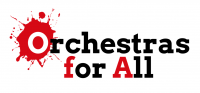 After almost two years of planning and filming with a huge range of young musicians and professional music leaders, we have some very exciting news: our online course in inclusive ensemble leadership, Conductors for Change, is launching on 12 July!
The course, designed for anyone working with a mixed-skill level instrumental ensemble, is made up of 10 standalone modules covering a range of ensemble leadership topics, including conducting technique, rehearsal leadership and arranging music for a mixed skill-level ensemble.
Come and join us at the Royal Academy of Music on 12 July from 2.30pm for a glass of Pimms while you hear more about the course from CFC contributor and Head of Conducting at RAM, Sian Edwards, as well as course designer and conductor, Emma Oliver-Trend. There will be opportunities to take part in activities from the course and find out more about how it could benefit you and your colleagues. The afternoon will culminate at 3.30 in a spectacular 30-minute performance in RAM's Duke's Hall from our inclusive Modulo orchestra, made up of 150 young musicians from across the country, conducted by Sian and Emma.
All launch attendees will receive a special discount code for course modules!
This event has passed
Browse all upcoming events or sign up to receive our monthly email update featuring our latest news and events.