Concert by Ipswich High School Ensembles, from Massachussetts, USA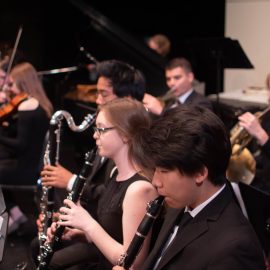 Choir, Concert Band and String Orchestra from Massachussetts, USA
Music directors: Abby Frost, Michael Coelho & Sean Lee
Programme to include the cello concerto by Elgar.
Ipswich High School is located not far from Boston and is well known in the state of Massachussetts for its excellent music department, and varied ensembles, including several choirs, bands and orchestras. Many of the school's musicians go on to conservatoires after graduation and then onward into the music profession. The Ipswich High School Ensembles perform regularly in the USA, including recently at the Carnegie Hall. They also travel every two years to Europe, with their April 2019 tour bringing them to London, Bristol and Warrington with almost 200 young musicians. Their concert programme will include choral music from England and America, as well as Elgar's Cello Concerto with as young soloist from the school.  They will be performing at the Parr Hall in Warrington on Tuesday 16th April, and at Blackheath Concert Halls on Thursday 18th April. If there are any local ensembles in Warrington or near Blackheath in London who would like to take up a 20 minute slot in either of these concerts, please contact Pippy at Onestage Concert Tours on 07989 965063 / pippy@onestage.co.uk.
Attend this event
Free tickets are available FREE from the Box Office, with a voluntary donation to www.youthmusic.org
This event has passed
Browse all upcoming events or sign up to receive our monthly email update featuring our latest news and events.