BBE Artistic Development training with Philip Harper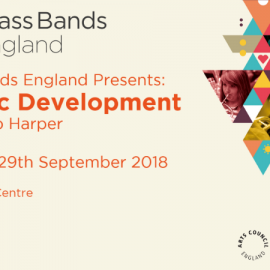 Brass Bands England (BBE) has launched the first of its new training and development programmes designed to help brass bands at all levels to thrive.  'Artistic Development' is the first to launch, led by top Musical Director Philip Harper.
The purpose of the event is to encourage MDs and band leaders to explore ways that they can be more innovative and creative in their approach to artistic programming, and more dynamic in their engagement with audiences both on and off stage.  BBE want to provide a space where band leaders can reflect on their practice, and challenge them to think about how their bands can be more resilient and relevant to audiences today.
In these sessions Philip will demystify the subject of Artistic Direction, particularly the role of the audience in artistic thinking.  He will discuss the importance to artistic leaders of self-learning, curious listening and wild imagination, as well as covering the nuts and bolts of on-the-ground artistic direction, working with bands in rehearsals.
Each point will be illustrated with practical examples, including a live illustrated rehearsal session with a band, and a demonstration of how Cory Band has learned to market itself better in the 21st Century.
Future dates and locations will be announced in due course but will include:
1st December – (Location TBC – Midlands)
20th January – The Hawth, Crawley
23rd March – (Location TBC – North East)
May – (Location TBC – North West)
June/July – (Location TBC – Yorkshire)
About Philip Harper
Philip HarperMA(Mus) PGCE LTCL is a conductor, a composer and music educator.
Philip is one of the most successful brass band conductors of the 21st Century.  He has been the Musical Director of the World's best contesting brass band, the Cory Band, since 2012.  He is the only living conductor to have achieved a conventional Grand Slam, achieving what has since become known as the 'Harper Slam', including: The European Championships, the British Open, the Nationals and Brass in Concert, all won in a single calendar year (Philip achieved this with the Cory Band in 2016).
He has won the coveted Conductor of Year Award by 4barsrest.com three times in 2013, 2015 and 2016, and in recent years he has been guest conductor of the Manger Musikklag Band in Norway, the National Youth Brass Band of Wales and the Royal Philharmonic Orchestra Symphonic Brass, amongst many others.
Philip is also a prolific composer and his original works and arrangements are played all over the world.  In 2016 he composed A Shakespearean Triptych for a 650-strong joint ensemble and choir conducting the first performance to a packed Royal Albert Hall at the Last Night of the Schools Prom.  You can find out more detail and listen to audio excerpts of Philip's music at www.philipharper.co.uk.
Philip has also had a successful performing career; as a young man he played principal tenor horn for the National Youth Brass Band of Great Britain and the Sun Life Band in Bristol, as well as getting through to the Brass Final of the BBC Young Musician of the Year in 1991.  Between 1996 and 1998 he lived in Japan and was a guest soloist with most of the 'British-style' brass bands with whom he still keeps a close connection, visiting annually.
Attend this event
The venue is located next to Rock Street Car Park where there is free long stay car parking available.
Tickets are priced at £5.00 for BBE members and £15.00 for non-members and include the price of a buffet lunch.
Please email sophie@bbe.org.uk if you have any dietary/access requirements or questions relating to the event.
This event has passed
Browse all upcoming events or sign up to receive our monthly email update featuring our latest news and events.