Accessible Instruments & Music Hubs: Finding the 'on' switch
As part of our New Directions in Inclusive Music series with MEHEM Uprising, this session will explore the best ways to source accessible instruments and work with tutors as well as the wider Music and Education section to have a highly effective accessible instruments programme.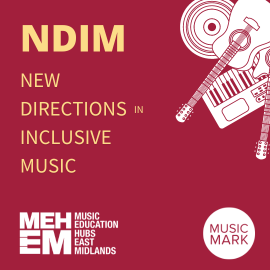 The National Plan for Music Education's prioritisation of funding for accessible instruments is a welcome opportunity for hubs to engage more diverse groups of young people in instrumental tuition and ensemble playing. However, the process of finding the right instrument for individuals with additional access requirements can be complex. It requires dialogue with schools and families, a trained and resourced workforce, effective distribution systems and the capacity to adapt and even invent new instruments to meet specific requirements.
This webinar brings together experts in the field to address these issues.
It will cover:
How to build a hub-based accessible instrument library
Training and resourcing instrumental tutors
Collaborations between technologists, researchers and industry to design new instruments.
The webinar is suitable for hub leaders, teachers, technologists and instrument designers.
Speakers:
Ben Sellers
Tim Yates, Head of Research and Innovation, Drake Music
Kayo Nishiyama, Sony Music Japan
Jason Dasent
---
New Directions in Inclusive Music series
This session is part of our New Directions in Inclusive Music series with MEHEM Uprising!, forming part of our Talk Into Action offer. Check out the full series below:
31st January: Inclusive Instrumental Teaching & Accessible Ensembles
28th February: Accessible Instruments & Music Hubs: Finding the 'on' switch
20th March: Inclusion Leads & Music Development Plans: Specialist approaches for specialist settings
24th April: Musical Playfulness for Pupils with PMLD
---
Ticketing
This event is free for Music Mark Members. Non-Members will be charged £20+vat for access to all 4 sessions in the series.
---
Accessibility
Technology: Zoom
Captioning: AI-Generated
Breakout rooms: TBC
If you would like to request presentation slides, questions and provocations in advance of the session, please get in touch with info@musicmark.org.uk. Speakers may decline sharing this information on the basis of protecting their intellectual property or for other reasons and we cannot therefore guarantee availability for all events.
For more information on Music Mark's commitment to creating inclusive web experiences please read our accessibility statement.
Attend this event
Members can sign up for this event via the 'Members Ticket' button below.
Non-Member? You can still sign up to join us for the full New Directions in Inclusive Music series.