ABRSM Online Piano Events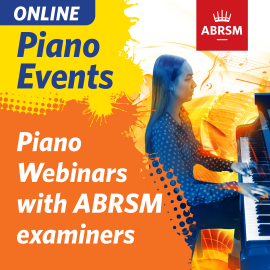 Wherever you are in the world, join us on an in-depth tour of ABRSM's new Piano syllabus for 2021 & 2022, featuring more pieces than ever before. We're delighted to present over 23 hours of inspirational teaching content which you can watch on-demand at a time that suits you.
Piano Webinars with ABRSM Examiners
Following the popular response to our Piano Webinars, we are delighted to be running them for a second time! Join our team of presenters to explore music from the new Initial Grade to Grade 8, surveying over 100 pieces from both the Piano Exam Pieces and the alternatives. These 8 holistic sessions focus on the various aspects of performance, providing detailed performance advice, contextual information and invaluable teaching tips. Whether you are preparing piano students for Practical or Performance Grades, or just enjoying playing the piano, these webinars are for you!
Piano Spotlights with Loo Bang Hean
Join renowned concert pianist Loo Bang Hean as he explores music from the new Initial Grade through to Grade 8. These sessions will cover all 81 pieces from the Piano Exam Pieces as well as many alternatives at the higher grades. Loo Bang Hean brings his vast professional experience as a performer and pedagogue to these sessions, highlighting the expressive, interpretative and technical demands of the pieces and how to approach them effectively.
Attend this event
Find out more and book your tickets below.
Ticket sales end Friday 18 December (17:00 GMT).
Tickets from £10 – £60
This event has passed
Browse all upcoming events or sign up to receive our monthly email update featuring our latest news and events.