A Common Approach: Online drop-in session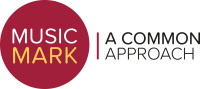 A Common Approach is an online resource to support music educators in their teaching practice and help develop a holistic approach to music education. Relevant to all vocal and instrumental teaching, including individual, small-group, large-group and whole-class lessons, music educators at all stages of their career can use the support and shared learning found in A Common Approach. You can learn more, and access the resources of A Common Approach by clicking here.
This session will give you the chance to get an overview of the resource, and quiz the editor and coordinator of A Common Approach, Catherine Brentnall.